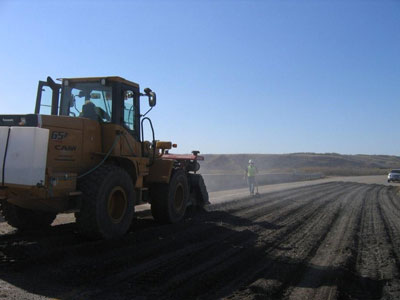 With our extensive hands on experience, we can give you professional advice or a second opinion to plan your asphalt pavement project. CAM provides consulting services to determine what meets your specific needs and budget. With clients such as RCMP, City of Regina, U of R, and Transport Canada we are ready and qualified to offer our complete Asphalt Maintenance Plan (AMP), to help you get the most out of your pavement.
We provide municipal asphalt overlays, removal & replacement, reconstruction, new construction, and additions for parking lots, streets, paths, condominium, and townhome projects. Part of our asphalt work service includes recycling pulverized asphalt with The Asphalt Zipper®, which completes the process in one easy step. The pulverized base grades very easily, enabling the crown to be restored and the curb to be revealed. Excess stabilized bases can simply be removed and used on other projects.
Snow removal and Parking Lot sanding
At Commercial Asphalt Maintenance we do more than asphalt, we also do road salt/sanding and snow removal during the cold winter months. When the weather takes a chilly turn, you can depend on us to prevent and mitigate poor driving conditions in your area when you need it most.
Hot Rubberized Crack Sealing
Crack routing and hot rubber crack sealing protect your pavement by preventing water from entering the crack and eroding and destabilizing the base & sub-grade underneath the asphalt. Unsealed cracks will eventually cause additional cracking and ultimately potholes—with work completed by our asphalt professionals, you won't have to work about either one. By sealing asphalt cracks promptly you can extend the life of your asphalt pavement, in many situations with proper maintenance you can double the expected life. From airport runways to shopping malls, tennis courts, and all other asphalt applications, CAM uses the highest grade materials available.
Did you know we specialize in Asphalt Emulsion Sealcoating, or "Slurry Seal"?. By sealing cracks in your pavement, you prevent water from entering, sand and rocks from making their way to the surface, and you minimize crack growth and help stop new cracks from forming.
Commercial Asphalt Maintenance also provides pothole patching for Regina area properties. Patching becomes necessary when an area of asphalt is deteriorated and no longer usable. Asphalt dig out patching, surface patching and pothole patching are all methods CAM utilizes depending on the condition of the overall surface and the severity of deterioration.
We resurface other asphalt surfaces, including roads (subdivisions, roadways, and major highways). Our paving crews can handle any resurfacing job with our modern fleet of equipment and skilled professional personnel.
We offer complete parking lot construction, including asphalt resurfacing, a cost-effective long term solution. If you notice standing water on your pavement or large areas of cracks forming, asphalt resurfacing may be the right choice for you. Let our professional estimating staff review your site and recommend the proper solution. We can resurface any size parking lot, from small shopping malls and restaurants to large corporate and industrial facilities.
Commercial Asphalt Maintenance offers gravel hauling services in Regina, including the delivery of gravel to your worksite or removal of excess gravel upon a project's completion. We have all types of gravel, including marble chips for gardens and flowerbeds, crushed stone, pea gravel, and more. Our trucks can haul large or small quantities, and we would be happy to install it upon delivery.
Our asphalt maintenance company in Regina also offers Bobcat service, including concrete breaking, demolition, and excavation. Our well-maintained, high-quality machines will facilitate the completion of any construction project involving concrete, making the process efficient and easy. Whether you're developing new land, repurposing an existing paved area, or removing concrete, we are the right team for the job.